Veneers
---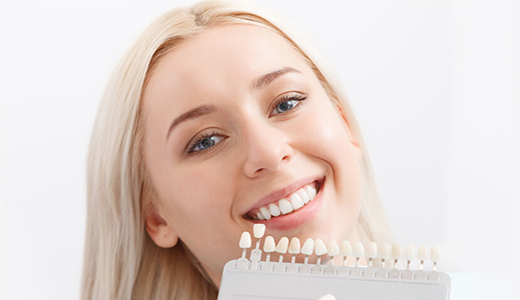 Are you self-conscious about the appearance of your teeth? Do you hide your smile in public or feel embarrassed when taking photos? If so, veneers may be the perfect solution for you. Veneers are a cosmetic dental treatment that can help transform the appearance of your teeth and give you the confidence to show off your smile.
The innovative team at John A. Carollo, DMD, of Florham Park, NJ, is proud to serve the local community with premium dental services, strengthening and covering your teeth so that you can look and feel your best.
What are Veneers?
Veneers are thin, custom-made shells placed over your teeth' front surface to improve their appearance. They are made of either porcelain or composite resin materials and are designed to match the color and shape of your natural teeth.
Veneers are used to correct a variety of dental imperfections, including:
Discolored or stained teeth
Chipped or cracked teeth
Misaligned teeth
Gaps between teeth
Uneven or irregularly shaped teeth
During your initial consultation, your dentist will examine your teeth and discuss your goals for treatment. They will then determine if veneers are the right option for you and create a treatment plan.
Your Quality Dental Care Team
Veneers offer a transformative and natural-looking solution to various dental problems, from discoloration to misalignment. With advancements in technology and materials, veneers can provide a long-lasting, durable, and comfortable restoration that blends seamlessly with your natural teeth. Veneers can be a game-changer to improve your impression, boost your self-confidence, or enhance your dental health. The most important thing is to find a trusted and experienced dentist who can guide you through the process and help you achieve your dream smile.
During your next appointment with the skilled team at John A. Carollo, DMD, of Florham Park, NJ, you can be sure you are receiving the proper care and guidance you and your family deserve.